"You look like a fairytale." We are a fairytale. And there are crumbling, fairytale houses with teacups and teapots, saucers, chandeliers in the trees. There is an old fake castle, graffitied & vintage. We go to thrift stores and I scrunch my nose up at the fur and get excited over toys and strange little things for houses. Pink lamps, porcelain lucky chinese cats, a jewelry box that looks like old postcards print. Fabric of strange mushrooms, rainbow, and stars, on brown denim that I want to cut up and sew onto jeans. Pinstripe pants with pink pinstripes.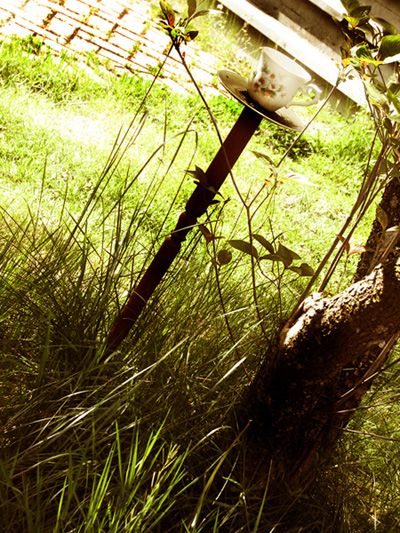 Letters are going out soon to Anna & Daile. I smell summer in the air, in the wind, in the clouds. I ache for rivers, pools, ocean foam.
But the walks, the walks are the best. The teacup house is my favorite. Favorite.